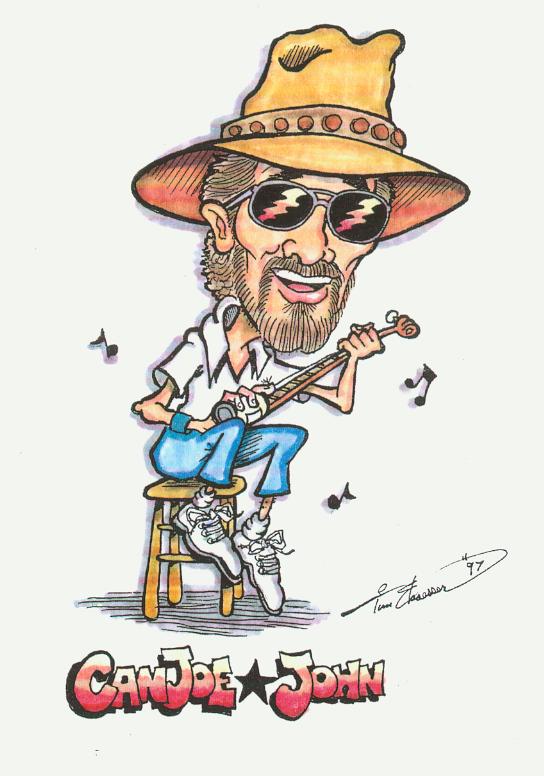 CanJoe*John proudly announces that he's now on tour... Come join him in making this tour successful 'cause it's all about the smiles. It's the...
"Tour of Smiles: A Magical Musical Tour of Children's Hospitals"
CanJoe*John is on a mission to provide and to give to as many patients of these childrens specialty hospitals, his signature model canjoe instruments for the direct and therapeutic benefits inherent by their very simple nature, the simple nature of music. CanJoe*John's personal appearances on the Tour of Smiles include his own uncanny canjoe pickin' done only the way he can as he weaves it all together with uplifting inspirational jokes, stories, puns, song, dance and fun for all to share, including the medical and hospital staff members, all family members and the visitors of the patients of these childrens hospitals. He has also now become a board member of the Tour of Smiles Affiliation, Inc (TOSA) a charitable, nonprofit corporation helping to provide musical instruments, special music events and programs for the direct use and benefit of these kids and their families who are under the care of these specialty childrens hospitals.
So why is CanJoe*John on this "Tour of Smiles" ?... Click this link to read the story and to learn more about the Tour of Smiles Affiliation, Inc (TOSA)
"Somewhere Over the Rainbow" background audio from CanJoe*John's CD, "One String, One Can, One Man, and One Band" BMI 2000
The CanJoe Company/ 2357 Feathers Chapel Rd./ Blountville, TN 37617/ 423-323-0174
New Announcement! The Tour of Smiles now has a new logo and a fan page posted on Facebook, both created by the Elixir Media Group of Kingsport,TN. The page is accessible to everyone so to view the page click the link or paste into your browser www.tourofsmiles.org

Web design and content ©1994-2009 The CanJoe Company {all rights reserved}