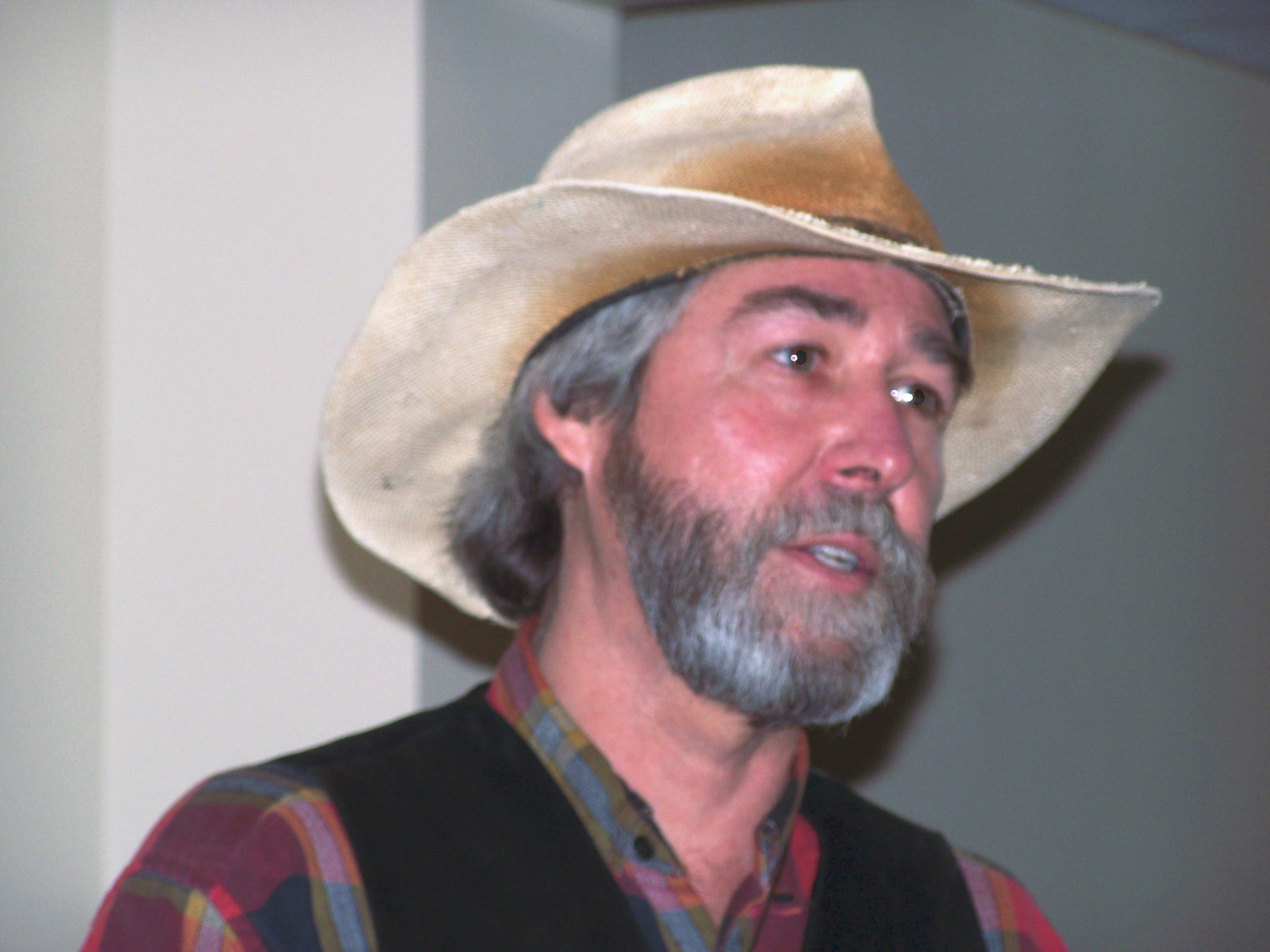 Welcome Folks!
Below is the canplete, unabridged, up-to-date story that's all about the
"man who plays the can" ...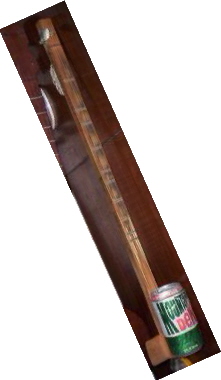 CanJoe*John
John L. VanArsdall was born November 27, 1955 in Knoxville, TN, originally from Sevierville, TN and raised in Cleveland, TN. His father, James R. VanArsdall, M.D., grew up in Norris, TN and who had himself learned to play "hillbilly music" on an old Stella guitar on which later he would play and sing many of those old time mountain tunes to entertain his five children. In 1963 at the age of 8, John was introduced to the mountain lap dulcimer by the Southern Highland Arts Guildsman and master craftsman, Edsel Martin, while visiting his grandmother, Louise VanArsdall, who was then the manager of the Blueridge Parkway Craft Center of Blowing Rock, NC. Mr. Martin instructed John on how to play the dulcimer by showing him his own unique strumming techniques and he taught John two ways to tune the dulcimer of which Mr. Martin referred to as "mountain major and mountain minor" tunings. John also began playing the mouth harp (harmonica) and the Jew's harp that same year and he frequently performed for visitors to the craft center on those instruments.
John also had other significant early home life and environmental influences that involved music and the arts. His older sister, Kathy, now a professional watercolor artist, learned to play their dad's old guitar and sing folk songs, his older brother, David, learned to play the old time banjo and keyboards, and his younger sister, Tina, now a master potter, learned to play the autoharp and sing. His mother, June, an artist specializing in oil paintings, was also a floral design competition judge. As a part time educator in the Bradley County, TN school system she pioneered methods of teaching the mentally and physically handicapped students in arts & crafts. So, John was, naturally,at all times surrounded by many and various visual and performing art forms as he was growing up.
When John was 11 years old, his father bought him a baritone ukelele and he started learning basic guitar chords while playing some of the old time mountain tunes he was most familiar with. At 13, he became interested in the electric guitar and began playing a newer genre of music as a member of a small rock band he put together with a few of his friends. While a student of the University of Tennessee's college of liberal arts, his early interest in Appalachian culture and music was evident by his chosen major in cultural anthropology. In 1987, John joined an eastern North Carolina bluegrass band known as "New River Grass". He performed as the group's fiddler for seven years. After relocating to Blountville,TN in 1993, John met master fiddler, Ralph Blizard, also of Blountville. Ralph's "Appalachian long bow" fiddling style influenced John back to traditional old time mountain music and for several consecutive years, John attended "Old Time Week" at the Swannanoa Gathering (1996-1999) on the campus of the Warren Wilson College in NC; learning fiddle bowing techniques and old time tunes from master fiddlers such as Ralph Blizard, Bruce Green, Bruce Molsky and others. While attending the Swannanoa Gatherings over the years, John also took courses in mountain dulcimer from master dulcimer picker, Don Pedi, and he took courses in square dance calling from master caller, Phil Jamison as well.
In 1990, while still fiddling for the New River Grass bluegrass band, John met Herschel Brown at a local jam session. Herschel was the originator of the unique one-stringed instrument he called the "canjoe" and he gave one of his prototype early canjoe creations (a type of dulcimer) to John. With Herschel's blessings and assistance, John soon began his own canjoe business. The CanJoe Company, became officially licensed in 1994 for the purpose of creating, crafting and selling his own versions of these unique instruments. In 1995, John's wife, Paula, (who gave him the name "CanJoe*John") passed away from cancer and by her inspirational lead he chose to dedicate the remainder of his life as full time musician, promoter and historian of Appalachian mountain music performance, canjoe instrument crafting, marketing, selling, canjoe & strumstick pickin', fiddlin', teaching and performing heritage music, story telling, giving away canjoe instruments to where they're most needed and helping spread badly needed smiles.
In the year 2000, as a way to help educate the public about old time mountain music, John produced and hosted the "Canjoe Old Time Radio Show" on WPWT 870 AM radio of Bristol, TN. His program was aired as one hour episodes each week for nearly a year. That same year, John recorded, copyrighted, and registered with BMI his first CD, "One String, One Can, One Man, and One Band", which is comprised mostly of traditional acoustic music showcasing the canjoe and the strumstick as the lead instruments. The single track, "Wayfaring Stranger", from the CD was released to bluegrass format radios across America and charted in the top 100 on the "Christian Country Perspective" charts. In 2002, a DVD video from the "Wayfaring Stranger" track was produced and filmed in New Orleans, LA and was released for broadcast on many cable television networks across America becoming very popular and highly requested by viewers in New Mexico, Arizona, and California. In 2003, John recorded his second CD, "An Uncanny Christmas", featuring the electric canjoe as the lead instrument.
The CanJoe Company has now been in continuous operation since its beginning and John has performed with his fiddle, his canjoe, strumstick (another type of dulcimer), lap dulcimer and harmonica on many prominent stages with many famous musicians, such as Bill Monroe, Little Roy Lewis, Mike Snider and others. He has performed and presented lectures on Appalachian music to educators and to students in every school grade level including presentations for several college level programs at institutions of higher education such as ETSU in Johnson City, TN and Virginia Intermont College in Bristol, VA. John has also presented programs on Appalachian instruments and music at the Country Music Hall of Fame and Museum in Nashville, TN. His performance credits include several appearances on the "Little Pickers" stage and on the "Americana" stage at the world's premiere Americana festival, MerleFest, in Wilkesboro, NC. The highlight of his music carrier, so far, was his performance on the stage of the Ryman Auditorium as a guest of Mike Snider on the Grand Ole Opry on November 4, 2006. John has received many music industry awards including the adult "2007 Bluegrass Instrumentalist of the Year" by the North American Country Music Association International (NACMAI), first place old time fiddle at the Newry Old Time Fiddlers Convention, Newry, SC in 2003, and an "achievement award" from the first Blistered Fingers Fiddlers Competition in Bristol, TN in 2001.
In the year 2008, John began full time with his "Tour of Smiles", doing special performances for patients and their families of the East Tennessee Childrens Hospital in Knoxville, TN and giving his canjoes to many of the patients for use as music therapy. His tour has proved so successful that he founded TOSA, (Tour of Smiles Affiliation, Inc.), a charitable nonprofit corporation providing musical instruments, music events and programs to patients and their families under the care of specialty childrens hospitals. In 2009 he also became a special events child life specialist volunteer at the Niswonger Children's Hospital of Johnson City, TN where he is also providing regularly scheduled entertainment events and giving his canjoes to the patients there for use as music therapy. (c)2009
The CanJoe Company
2357 Feathers Chapel Rd.
Blountville, Tn 37617
phone: 423-323-0174