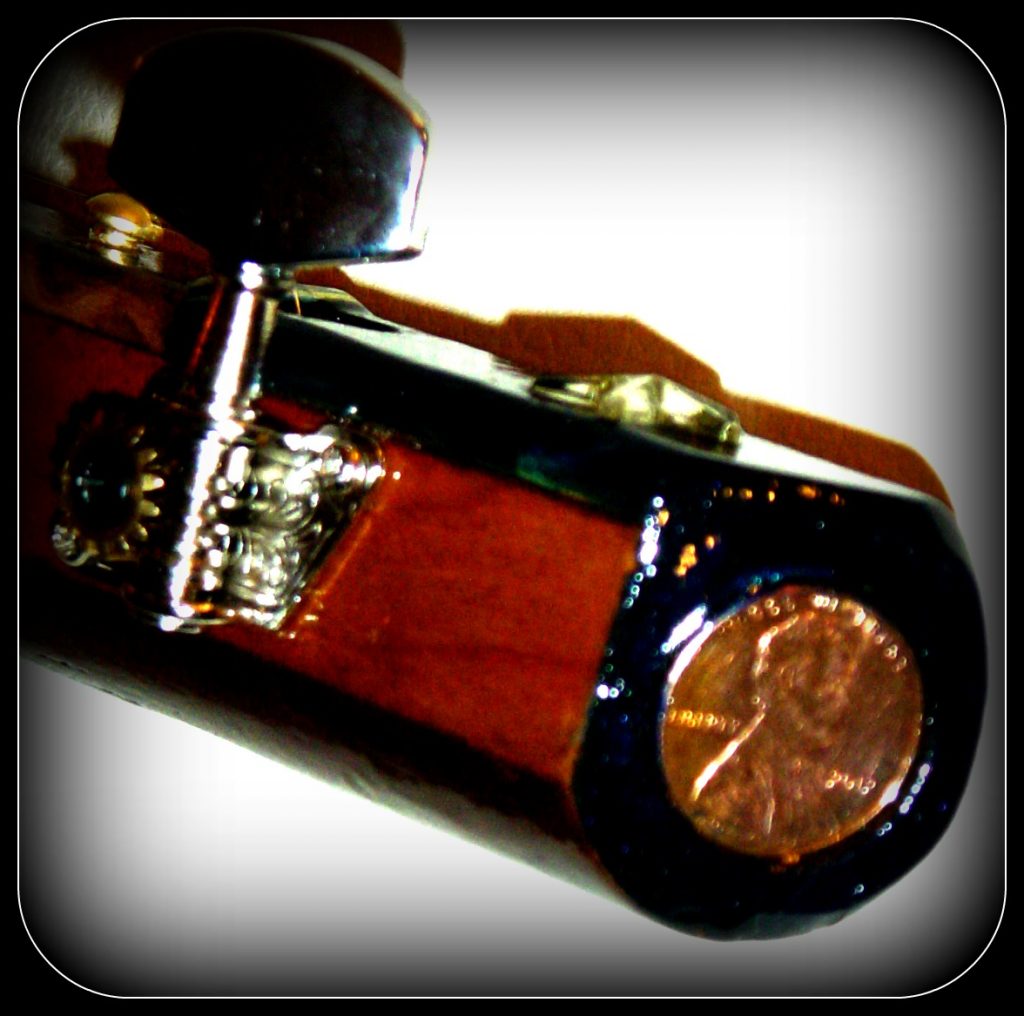 Creating custom designed stringed musical instruments specific to the wishes, desires, tastes, as well as matching personalities and characteristics of the owners of their personal instruments is all about what the CanJoe Company, of Blountville, TN, does best. Occasionally, very absorbing challenges are requested, and more interestingly are that, on occasion, very engaging individuals who these instruments will belong to comes along with the order requests. One such situation occurred when the mother of a very giving young man called in to order for her son, a new instrument as a special Christmas gift.
Thaddeus Bryant, also known as Tad, is a 12 year old young man who has had a history of physical difficulties since birth that have required extensive physical and occupational therapy sessions throughout his young lifetime. In his published biography is noted, "his sweet nature made him a favorite playmate of other children in therapy with much bigger uphill battles. Through his own hard work and grit, and through working one-on-one with other kids, his silver lining was realizing that everyone has a challenge at some point in their lives. He created a strong work ethic for himself, made a habit of using his innate sensitivity and kindness, and developed a desire to help others."
Tad is a very special human being. He discovered and put into action how with using his personal interests, he could help others. One of his interests began when he was growing up in New York City during his first nine years of life. He was inspired by his dad with the notion that found heads up coins hold auspicious favor; the "pennies from heaven" idea. While living in New York, Tad found many heads up pennies. His mom began to worry that Thaddeus might think that money "literally fell from the sky, so she taught him to divide his findings into categories: savings, spending, kids-in-need, the environment, etc". Tad took these interests and began helping others, first with a bake sale to generate funds to donate to the non-profit, "Smile Train", an organization that helps kids needing cleft palate surgery. His effort paid off in gaining enough funds to benefit two children in getting their surgeries. His next venture in helping others came about in getting personally and directly involved with the Bowery Mission, another non profit organization that helps feed homeless people during Christmas. There, Tad utilized his bake sale method to generate enough funds to feed 210 men at Christmas, but, not only donating the generated funds, Tad personally shared his time as he "handed out trays, shook hands, ate with those attending, and participated in prayer" at that event. This encouraged him to start his own foundation.
Having been born into a very music oriented family, his world renowned grandparents as prolific song writers wrote the tune "Rocky Top" among many other # 1 hits, which inspired Tad to write a song, too, about a "Heads Up Penny Night". It was that song that inspirited him to create and name his non profit organization the "Heads Up Penny Foundation". The Heads Up Penny Foundation now "changes children's luck, one penny at a time". This twelve year old child is realizing his dream of helping others and folks can learn more about how to support his loving, grand efforts of giving by visiting his web site at wwww.headsuppennyfoundation.org.
Now, when Tad's mom called to order a special, custom designed one-stringed musical canjoe instrument, she indicated that Tad had requested that he wanted only the authentic, original, real deal, hand crafted, specifically and exclusively created by CanJoe*John, himself. In the initial conversation involved in discovering the details relevant to Tad's history whereas his instrument would be befitting of his personal character and tastes, the choices of materials for his instrument were offered and discussed. One request was that a penny was to be imbedded into his instrument. At first, she requested a common root beer can as the instrument's resonator, but she quickly learned that in the CanJoe Company shop is a huge collection of unusual cans available and the decision followed that a "Rocky Top" root beer could be used. In researching more details specific of Tad, CanJoe*John noticed that his published photographs often showed him wearing orange clothing, such as shirts with the University of Tennessee's orange with logos, so instead of root beer, the orange drink "Rocky Top" can was decided. As for the instrument's finger board, his mom requested the "Premium" level design which is of a select hardwood, in this case she chose mahogany. However, CanJoe*John more than often upgrades the level of his creations, just because, so as a contribution to the soon to be Christmas gift, CanJoe*John chose to create Tad's instrument by laminating a gorgeous piece of premium grade Chinese cherry with a finger board of beautiful curly maple. The cherry wood originated from a local casket company that uses the extremely exotic, flawless woods as dowels to make the casket handles. The curly maple wood used was indirectly sourced from the Gibson Instrument company as "rejected" material, not perfect enough for a Gibson banjo or guitar, but superbly fit for a super fine CanJoe Company instrument. Inlaid in the instrument's head stock is a bright, shiny 2012 penny that was literally found heads up in a bank parking lot, and on the face of the head stock is permanently attached a beautiful cut crystal glass star, another trademark symbol used by CanJoe*John since day one of the now over 23 years of being in business. Photos of Tad's instrument are seen with this blog post: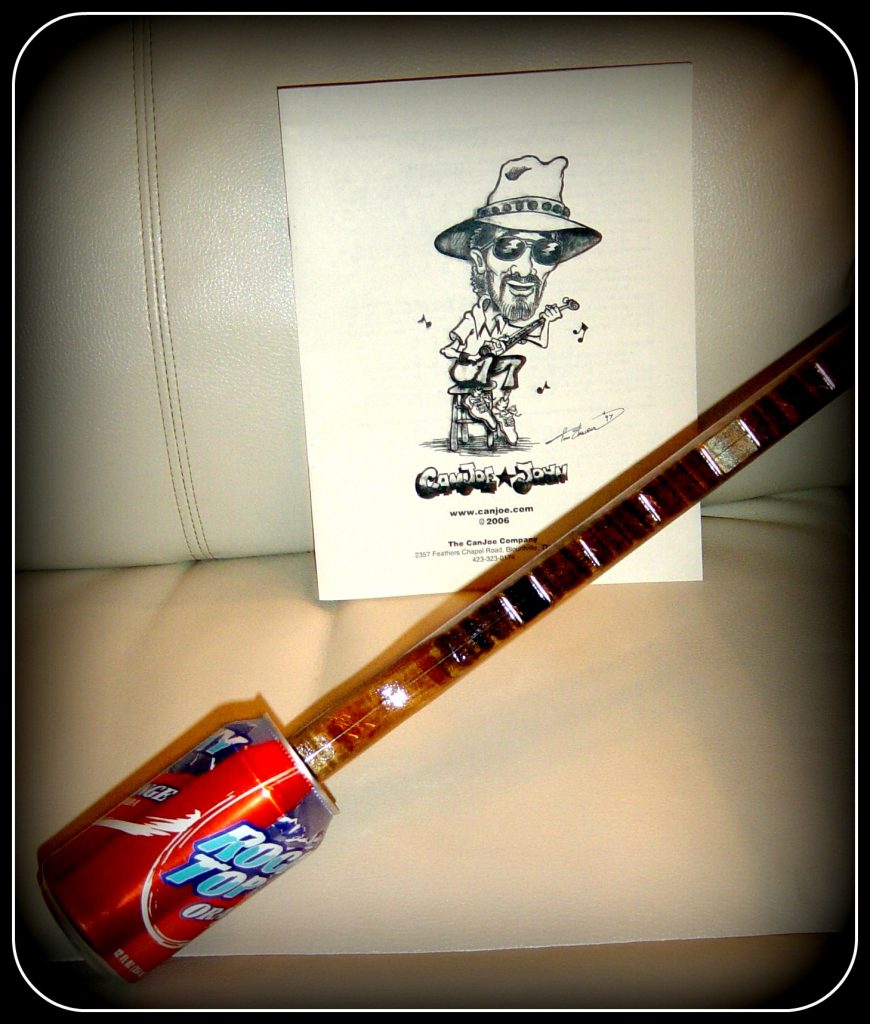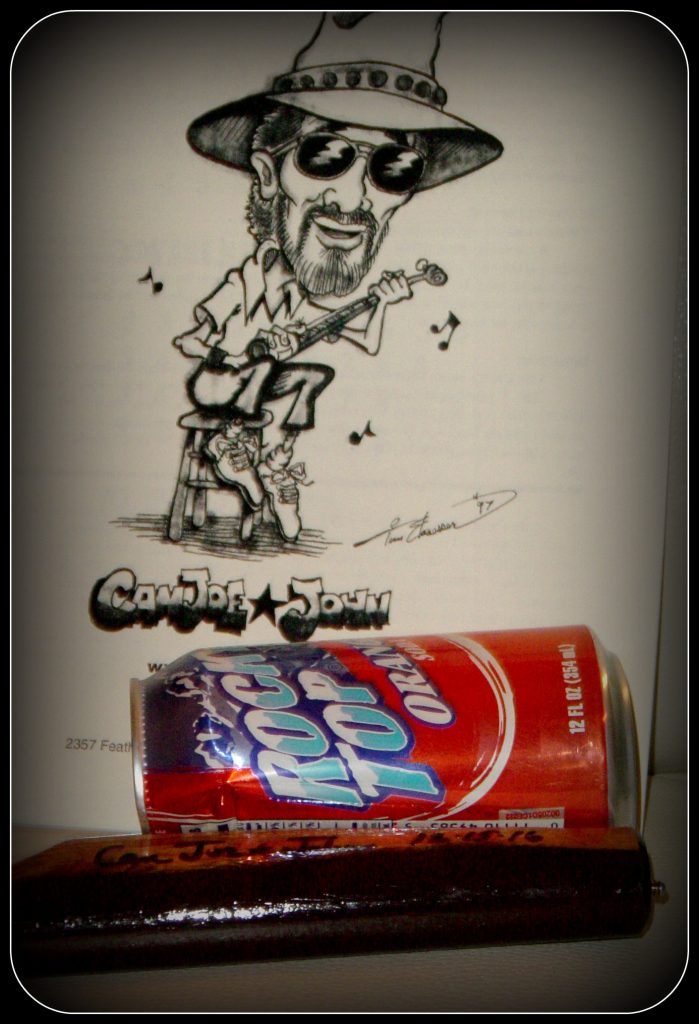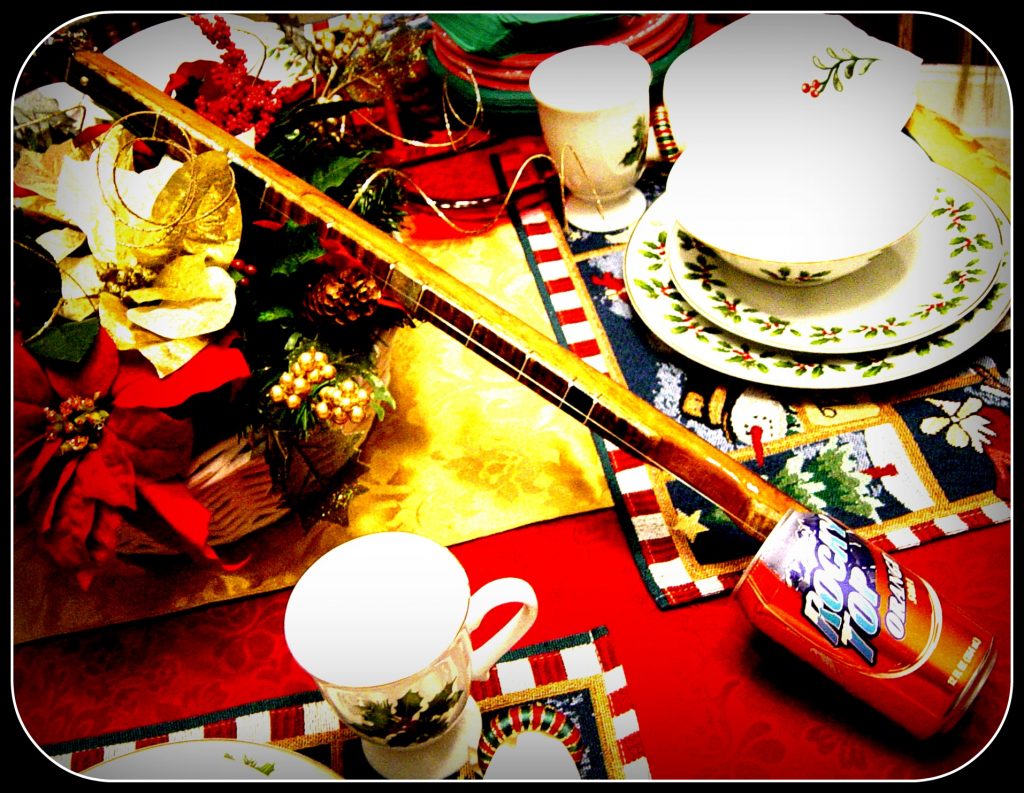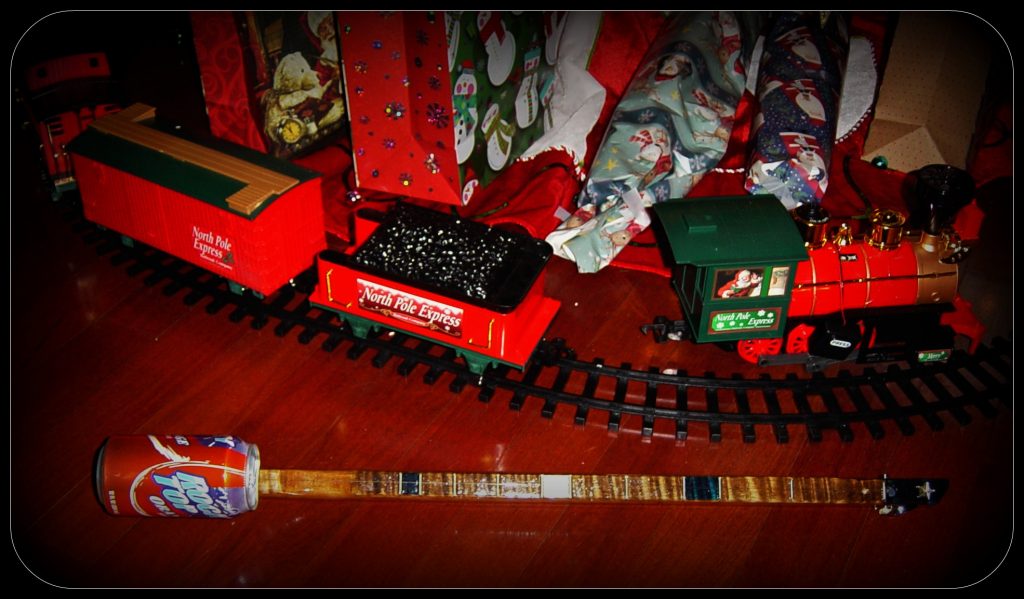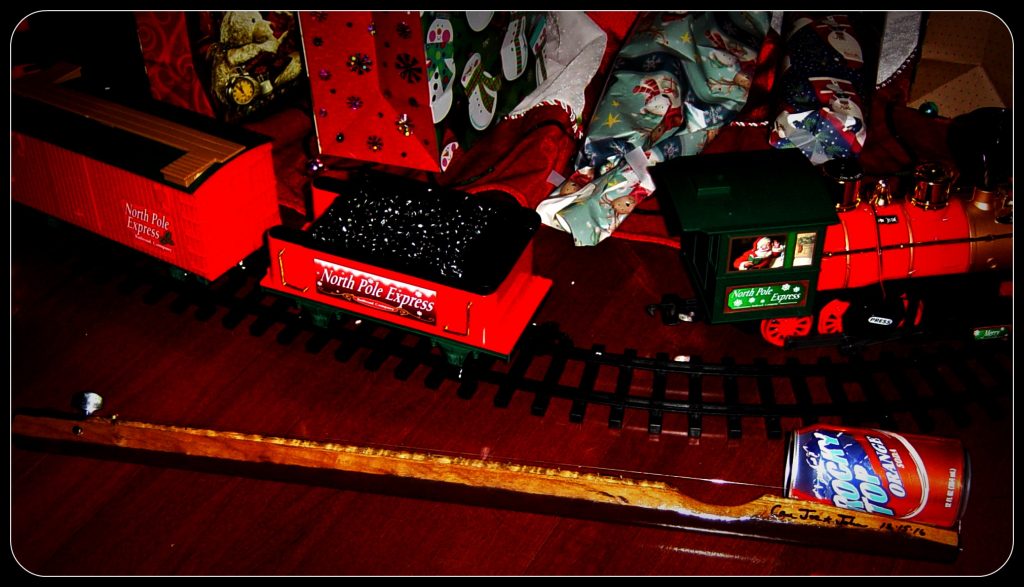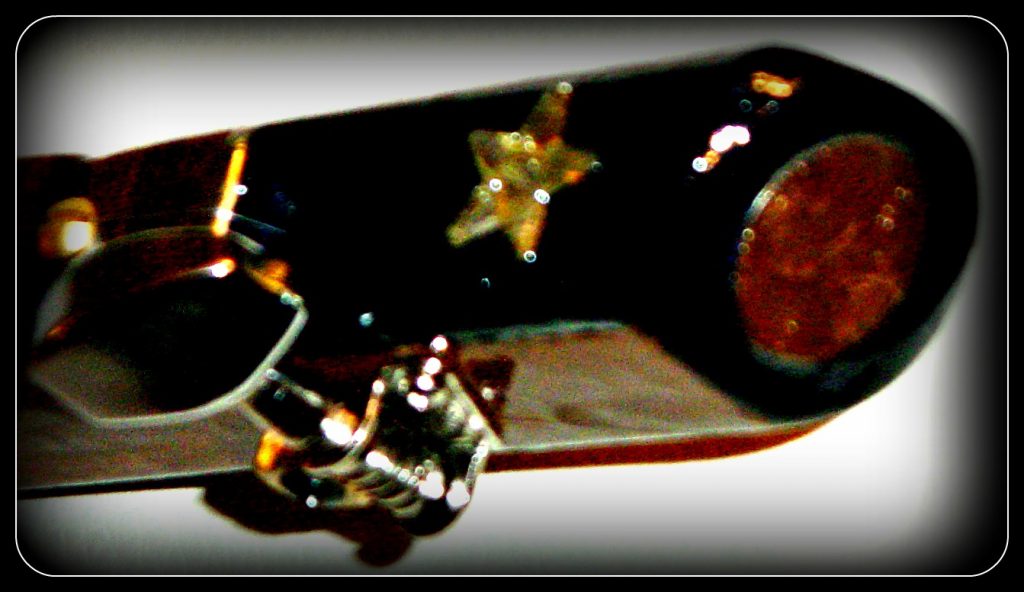 For information and all inquiries call the CanJoe Company at 423-323-0174, or 423-612-4320